Funktionalität triff auf
Ästhetik
Your visitors will feel at ease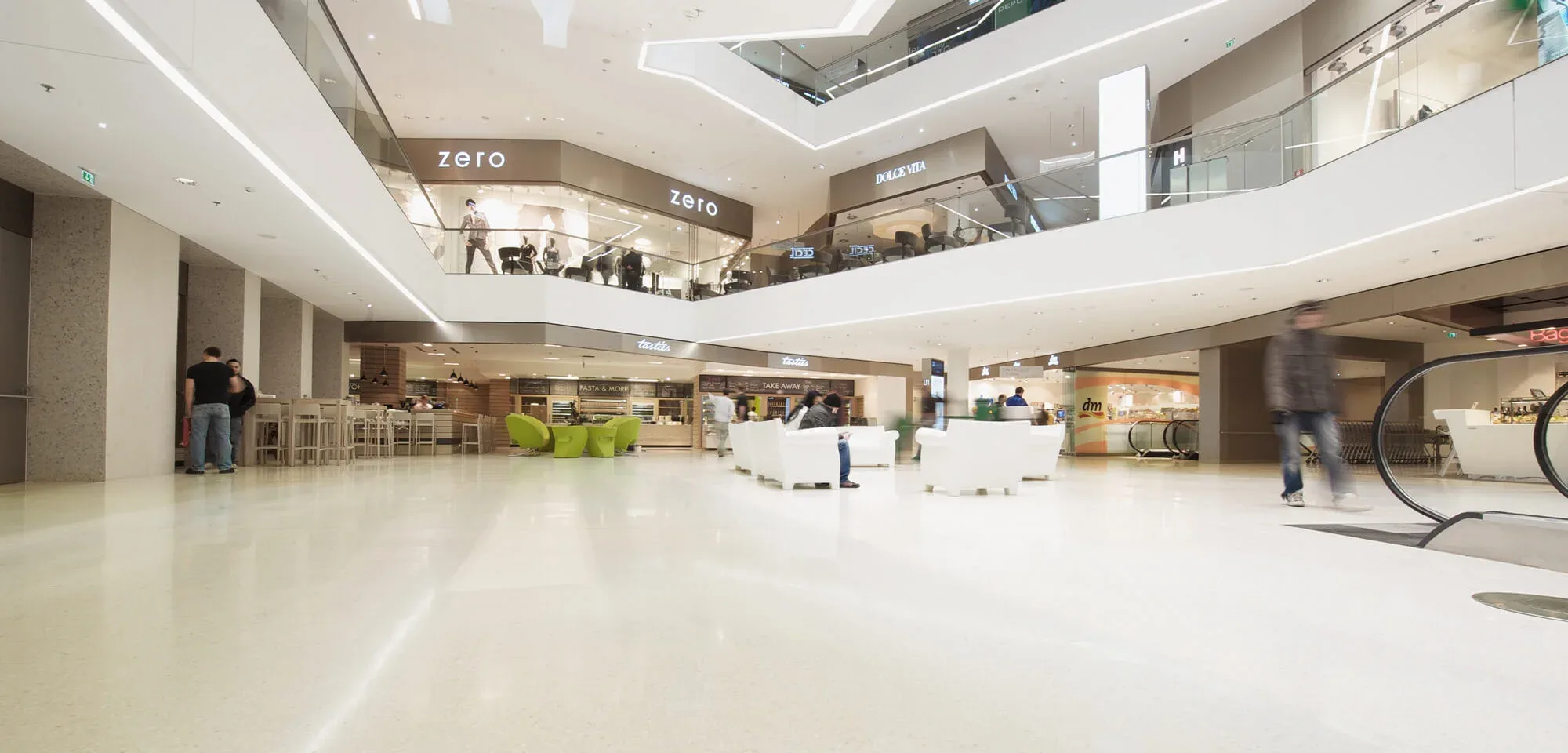 Surfaces for public institutions
When choosing materials for public facilities, the main considerations are cost-effectiveness, safety, and design. The floor is subject to heavy use, especially in highly frequented buildings such as airports, train stations, etc., and must be able to withstand a wide range of pressures.
doppo Ambiente Boden
doppo Ambiente Boden is a self-leveling, special cement-based, plastic-modified filler with fast curing process, used for creating custom unique floors indoors
The Doppo Ambiente floor meets the building regulatory requirements according to AgBB and the DIBt – Principles for the health assessment of indoor spaces (common areas). It is non-combustible (flammability class A1fl) and has low emissions (GEV Emicode EC1)
With its high initial hardness, long-lasting surface, and versatile design possibilities, the seamless cast floor is well-suited for residential areas, offices, restaurants, and commercial spaces with light to moderate levels of usage
doppo Ambiente Boden Solido
The Doppo Ambiente Boden Solido is a specialized cement-bound, plastic-modified thin-layer filler compound with a fast hardening process, designed for interior design floorings that can withstand light to medium loads
The surface appearance with its characteristic trowel marks adds elegance, and with a selection of over 64 colors, the floor can be customized to suit your project's individual style
The doppo Ambiente Boden Solido is non-flammable (A1fl) and highly low in emissions (GEV Emicode EC1 plus)
doppo Ambiente Gussterrazzo
The mineral doppo Ambiente Gussterrazzo impresses with its high durability and timeless beauty.
Thanks to its almost boundless flexibility in design, incorporating various marble aggregates, different color options, and colored glass granules, the doppo Ambiente Gussterrazzo fulfills all design demands and seamlessly adapts to any space and requirement.
doppo PU coatings
The UV-resistant pigmented, ready-to-use, footfall sound-insulating, elastic, solvent-free 2K coating compound made of high-quality polyurethane resin is used to create durable and seamless floor coatings that can withstand heavy foot traffic and light transportation. The coating is easy to clean and exhibits good resistance to fuels, lubricants, and many chemicals. Due to its UV resistance, the material is also used in the design floor sector.
Find your nearest skilled tradesperson