doppo Ambiente Pro+
Create water-resistant and modern wall and floor surfaces with the doppo Ambiente Pro+
Why doppo Ambiente Pro+?
The seamless upgrade for your living area. Whether it's your bathroom, toilet, kitchen, or living room, our doppo Ambiente pro+ will give your floors, walls, and ceilings a natural and unique look.
The high-quality mineral filler is water-resistant, extremely elastic, highly durable, and creates long-lasting, beautiful surfaces in both dry and wet areas.
doppo Ambiente Pro+ ensures a modern and pleasant atmosphere – the seamless surface is also easy and quick to clean.
This allows you to have more time for the enjoyable things in life.
Ideal for:
Residential spaces
Wet areas
public facilities
Catering establishments
Spa facilities
Design & Functionality
The beautiful colors from our IBOD color collection, combined with the spatula texture that receives a special appearance through the artisan's craftsmanship, create a unique masterpiece. The final surface sanding brings out the spatula strokes very nicely. However, it can also be crafted without sanding, according to your preference.
To make the mineral surface long-lasting water-repellent, dirt-repellent, and washable, it is sealed with a two-layer silk matte 2-component sealant.
Modern designs with flexible color options
A bathroom without grout not only creates the optical illusion of being larger, more spacious, and tidier, but it also adds a touch of exclusivity. Therefore, this design is suitable for both personal bathrooms and smaller bathrooms or guest toilets.
Given that tastes are known to vary, we have made the decision to provide a broad color palette with a multitude of combination possibilities. By combining our product with wood, ceramic, or stone, we create spaces for relaxation, allowing you to unleash your creativity.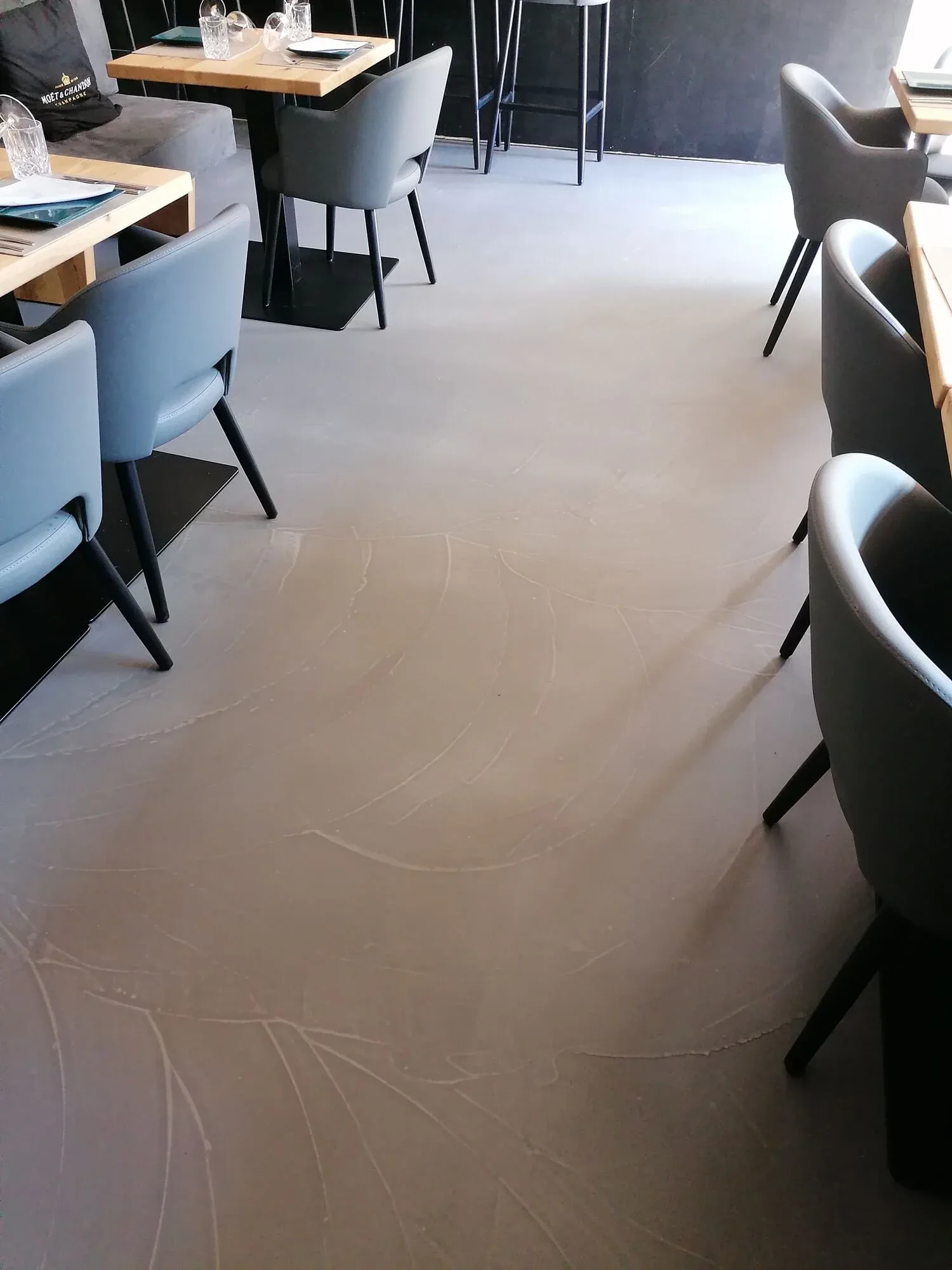 Product Advantages & Certifications
Color Collection & Textures
Tools & informational materials
Product Advantages & Characteristics
easy to apply, flexible, and durable plaster
optimal processing properties with a long working time
For layer thicknesses ranging from 2 to a maximum of 3 mm
breathable
Non-combustible
Does not contain any volatile organic compounds (VOCs)
excellent adhesion on all common substrates
low-maintenance and easy to wipe clean
Certificates & Quality Seals
non-combustible – flammability class A1
The product has very low emissions (GEV Emicode EC1 plus)
Color Collection & Textures
Here you will find our available color combinations and the selectable structures
Die Darstellung des Farbtons auf ihrem Bildschirm kann abweichen und ist nicht farbverbindlich.
Tools & information material
You can find all tools and information here
Find your nearest professional craftsman