Can bathroom tiles be skimmed over? – Creative design possibilities for your bathroom
Are you no longer satisfied with the tiles in your bathroom? Do you want something new, without the hassle of dirt and noise? Then take a look at this article!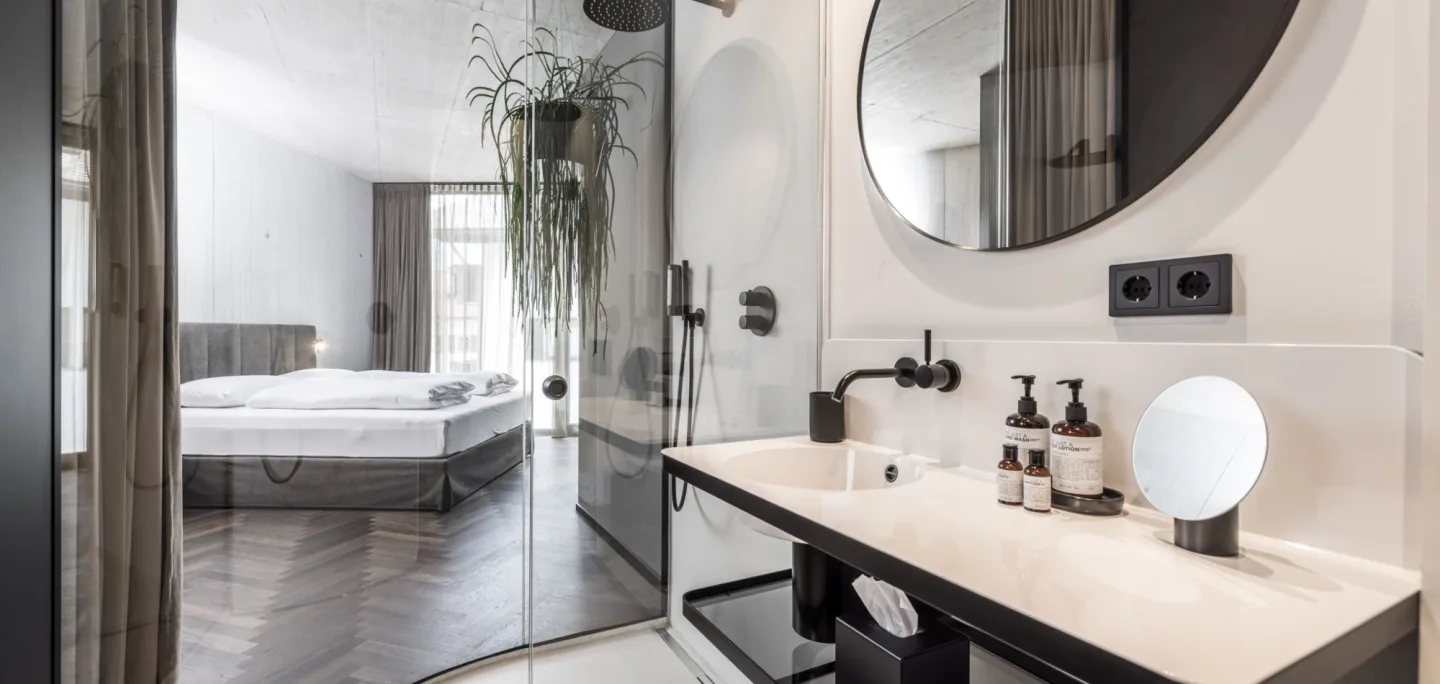 Renovators often wonder: "Can bathroom tiles be filled over?" In this article, you will discover how you can refresh your bathroom using this creative method. Get inspired by exciting ideas for small bathrooms and spacious havens of relaxation.
Why should you cover bathroom tiles with spackle?
Small bathrooms can feel even more cramped due to the numerous grout lines. Grandma's old brown, green, blue, or pink tiles are simply not retro and need to be replaced. Tile overlaying provides an attractive opportunity to completely redesign your bathroom. This process allows you to not only achieve a refreshing transformation but also add your personal touch
The selection of decor, colors, and designs enables you to customize the space according to your preferences. By doing so, you can bid farewell to outdated tile patterns and colors and create a modern, personalized atmosphere.
Furthermore, there is no need to remove the tiles, which significantly facilitates the renovation process by eliminating noise and dust. Additionally, the cleaning effort after the renovation is greatly reduced, as dirt has no opportunity to accumulate on seamless surfaces.
Preparation
Preparation is essential before filling over floor tiles and wall tiles. Firstly, the tiles are degreased to remove any dirt and residue
Next, the tiles are sanded. This process breaks the glaze and ensures better adhesion of the filler. For wall surfaces, a surface filler (doppo Vetroplast) is then applied to level the tile joints. Afterward, an adhesive primer is applied to ensure an optimal bond between the tiles and the filler. For floor surfaces, a smooth and uniform surface is created by applying a primer resin, resulting in a seamless appearance where the joint pattern is no longer visible. Subsequently, the filling or cast floor can be applied
These steps lay the groundwork for a successful and long-lasting outcome.
The Spackling Process
The exact processing naturally varies depending on the chosen product. For the Doppo Ambiente wall, only one layer is required, while the Doppo Ambiente Pro+ requires two precise layers. Once the preparation work is done, a primer is applied as an adhesive bridge for the filler.
A precise preparation is indispensable in order to achieve a smooth and attractive final surface. After drying, the spackled area is sanded and spackled once again. This ensures a uniform appearance and guarantees the fulfillment of all technical specifications
The filling process requires precision, but it is rewarded with a refreshingly transformed bathroom atmosphere.
Creative design possibilities
The overlaying of bathroom tiles offers creative design possibilities that can transform the bathroom into a unique oasis. You have the option to choose from various color tones to incorporate your personal touch.
Warm colors, black and white retro design, or concrete look? There are no limits to your creativity when it comes to designing your bathroom according to your preferences
We at IBOD are pleased to assist you with inspirations, so you can navigate the extensive selection and choose your preferred look.
Functional Aspects of Spackled Tiles
The spackled bathroom tiles offer not only aesthetic advantages, but also impress with their functional properties. Slip resistance is of great importance, especially in wet areas. We classify the slip resistance through standardized laboratory test procedures
Furthermore, they are easy to maintain and clean, which is of crucial importance in the bathroom. Their resistance to moisture and water guarantees long-lasting durability. The seamless surface is not only visually appealing, but also highly functional.
Summary
In conclusion, overlaying bathroom tiles provides an excellent opportunity to redesign your bathroom. With creative design options and functional benefits, you can create a personal haven of relaxation and comfort
Whether in small bathrooms or generous spaces – unleash your creativity and transform your bathroom into a stylish haven of relaxation.
Frequently Asked Questions
Which color tones are suitable for small bathrooms
Light shades such as cream, light gray, or taupe are well-suited for small bathrooms as they create the illusion of a larger and more open space. Conversely, dark shades like anthracite, brown, or dark gray evoke a sense of coziness and comfort.
Which tiles are the most expensive?
Amongst large-format tiles, those made of Carrara marble are considered to be the most expensive. They are distinguished by the distinct gray veins of Carrara marble. The combination of this high-quality natural stone and intricate manufacturing processes results in Carrara marble tiles often belonging to the premium price range