The advantages and disadvantages of tiles in your bathroom
In this post, we will present to you the advantages and disadvantages of using tiles in the bathroom - as well as the alternatives available.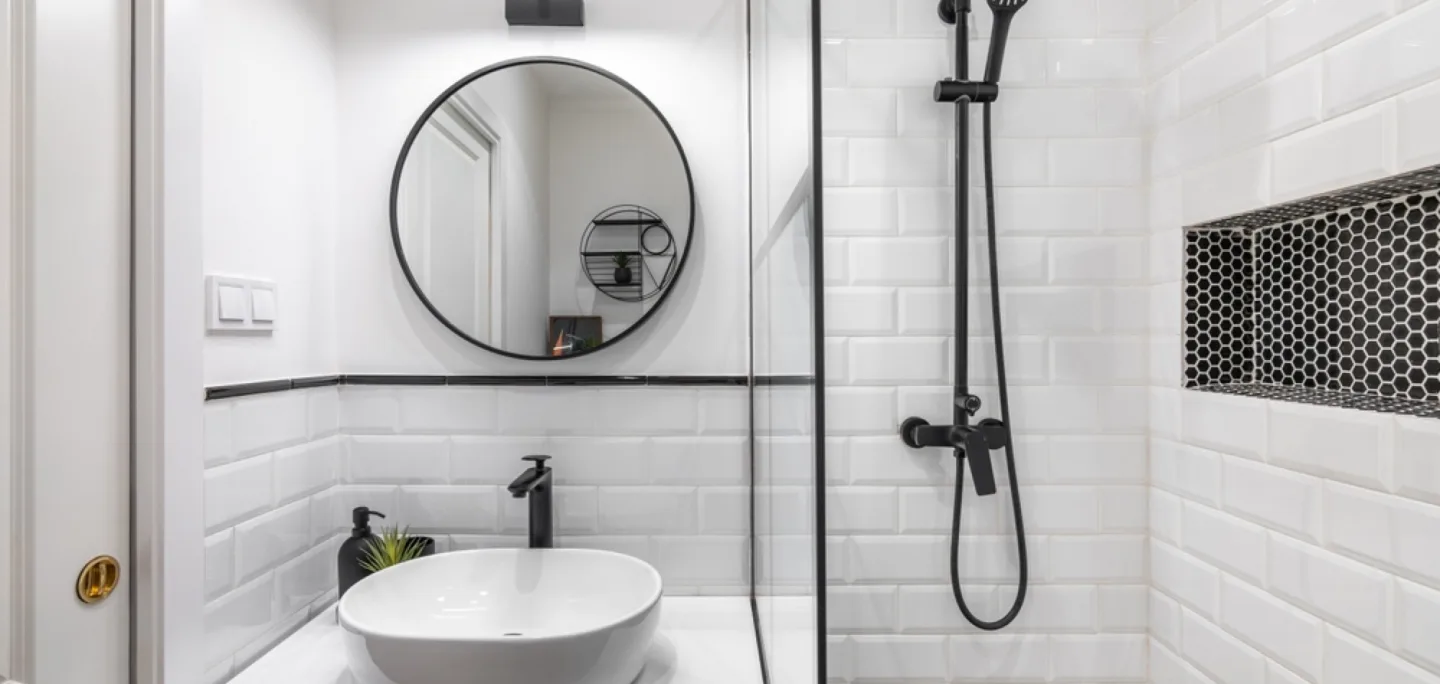 Floor tiles and wall tiles have been a staple in many bathroom designs for a long time. Their versatile properties make them an excellent choice for both classic and contemporary bathrooms. Here are the advantages and disadvantages of using tiles in your bathroom.
Benefits of Tiles in the Bathroom
Tiles offer numerous benefits that make them a compelling choice for bathrooms
Water resistance
Tiles, especially porcelain stoneware and natural stone tiles, create a barrier against moisture. This prevents the formation of mold and ensures a durable appearance.
Durability
High-quality tiles are known for their durability. They withstand wear, scratches, and moisture over extended periods of time, maintaining their aesthetic appeal and structural integrity
Various design possibilities
Bathroom tiles offer a wide range of design possibilities that ignite your creativity. From mosaic tiles to large-format tiles, as well as wood and marble looks – the options are virtually limitless
By using various colors, patterns, and textures, you can create a one-of-a-kind bathroom design that reflects your personal style.
Versatility
Tiles can be used not only for floors and walls, but also for shower niches, bathtub surrounds, and even as decorative accents. Look for inspiration to discover the color tones and designs that appeal to you the most.
This extensive selection enables you to customize your bathroom according to your preferences, combining various types, colors, and patterns of tiles to create a unique and aesthetically pleasing design that reflects your personal style.
Drawbacks of tiles in the bathroom
Besides the advantages, there are also some drawbacks to using tiles in the bathroom. Let's take a look at them next:
Coldness
In the colder months, tiles can feel cold and create an unpleasant sensation when entering the bathroom. Therefore, we recommend using rugs or non-slip mats to mitigate the cold feeling and ensure safety at the same time.
The risk of slipping
Glazed tiles, especially, can become slippery when wet, increasing the risk of falls. To ensure safety, it is advisable to consider using non-slip tiles or mats.
Perception of spatial dimensions
Because of the grout lines, small bathrooms with tiles often appear even smaller. Therefore, for a small bathroom, consider using XXL tiles or a seamless floor covering that creates a sense of spaciousness and openness.
Grout maintenance
The joints between the tiles are prone to dirt, moisture, and the growth of mold. Regular cleaning and maintenance are necessary to prevent discoloration and mold infestation. Use mild cleaning agents and a brush to keep the joints clean and in good condition
We also recommend regularly sealing the grout lines to ensure their durability and water resistance. Proper grout maintenance contributes to the long-lasting beauty of your bathroom tiles.
Complex installation
The proper installation requires specialized knowledge and attention to detail in order to avoid errors. The tiles need to be placed on a level surface and securely adhered, while ensuring accurate alignment and precise cutting
If you do not have the necessary skills, it is advisable to enlist the services of an experienced professional to ensure a smooth installation process and a satisfactory end result.
Alternatives to tiles in the bathroom
If you are looking for alternatives to bathroom tiles, there are various options that are both aesthetically appealing and functional. One popular alternative is a seamless floor covering
The modern look gives the bathroom a seamless and elegant aesthetic, while also being easy to clean since it has no visible joints. With a wide range of color and texture options, the spackle can be customized to suit individual preferences. It's good to know that depending on the condition of the underlying surface, almost any existing substrate, such as tiles, can be easily covered with spackle – saving both time and costs
In addition to the seamless floor, you can also opt for vinyl flooring, natural stone, or wooden planks. Moreover, adding exquisite shower trays directly in the shower can give your bathroom a unique touch.
In conclusion
In conclusion, it can be said that choosing bathroom tiles is a decision with numerous advantages. The water resistance, durability, and wide range of design possibilities make tiles a highly appealing option
However, potential drawbacks such as the sensation of coldness and the maintenance of grout should also be considered. The proper selection of tiles, along with expertise in installation, can transform a bathroom into a sophisticated and functional sanctuary of comfort and relaxation
When considering alternatives, options such as seamless walls and floors provide exciting possibilities. Ultimately, designing the bathroom is an opportunity to express personal style and create a harmonious environment.
Frequently Asked Questions
Are tiles or seamless flooring more expensive?
The cost depends on the quality of the tiles, the material of the seamless flooring, and the size of the bathroom. Tiles can be inexpensive or expensive, depending on their type and origin
Seamless flooring is often slightly more expensive due to its more complex installation process, but it is a highly worthwhile investment for the future because of its low maintenance requirements and long-lasting durability
What other alternatives to tiles are there?
In addition to tiles, there are a variety of alternatives for bathroom floors and walls. These include vinyl flooring, wooden planks, natural stone, and concrete-look coverings. Each option has its own unique benefits and aesthetic features. The choice depends on your personal taste, budget, and the specific requirements of your bathroom.
How long can tiles last in the bathroom?
High-quality tiles, when installed and maintained properly, can last for decades. Ceramic and porcelain tiles are well-known for their durability and ability to resist water. However, regular cleaning and maintenance are also necessary in order to preserve the longevity and appearance of the tiles.
What colors should I choose for my bathroom?
The choice of the right colors for your bathroom can have an impact on the atmosphere and ambiance of the space. Colors like brown, anthracite, light grey, and taupe in a matte or glossy finish are popular options that can create a calming and timeless aesthetic
Brown provides warmth and coziness, anthracite adds elegance and modernity, light gray creates an airy ambiance, while taupe offers a gentle sense of neutrality. Feel free to experiment with various color combinations to achieve the desired bathroom design that truly reflects your personal style.