What are the alternatives to tiles in the bathroom?
In the following, we will explore several intriguing alternatives that not only reflect your personal style in the bathroom but also provide functionality and aesthetic appeal.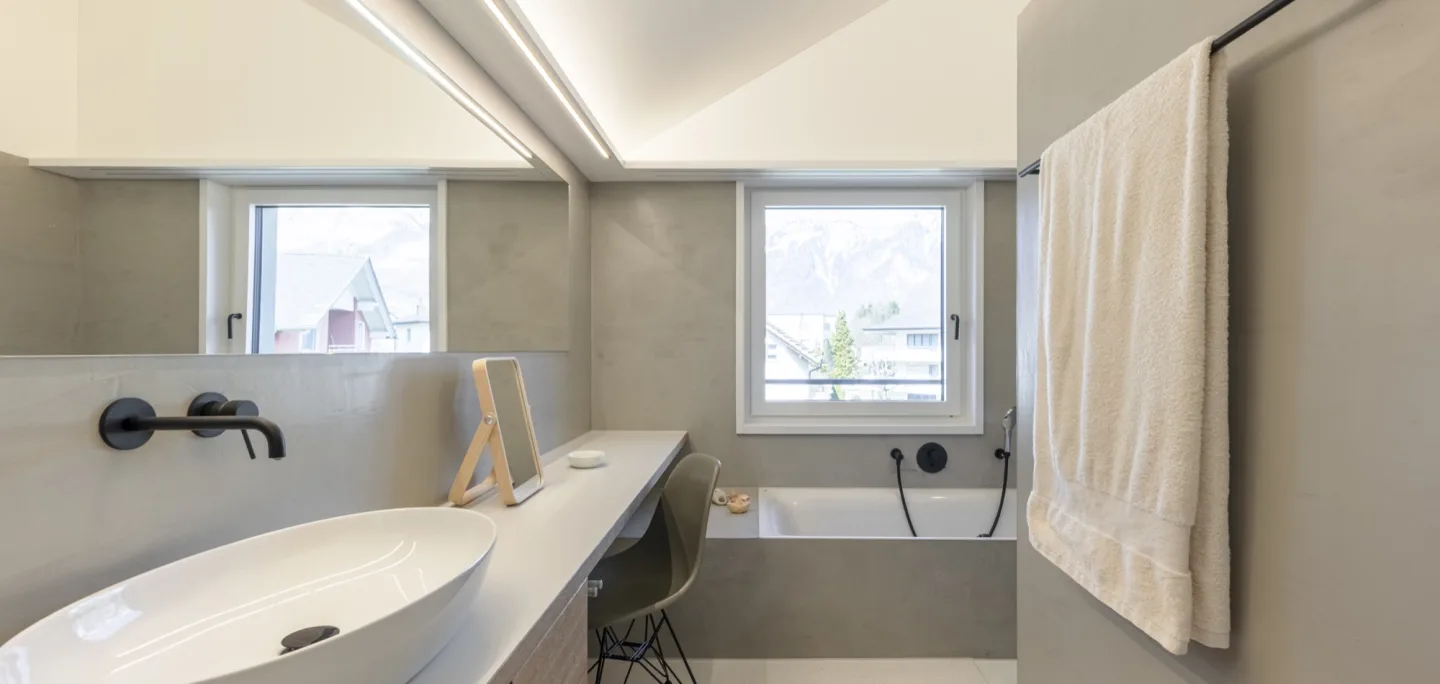 Although bathroom tiles are a popular choice, there are also other appealing options that can give your bathroom a unique character. In the following, we will take a look at some interesting alternatives that reflect your personal style while providing functionality and aesthetics.
Wall cladding made of plastic panels: Versatile appearance and easy maintenance
Wall coverings made of plastic panels are a fantastic way to give your bathroom a fresh and modern look. This option is not only affordable, but also incredibly easy to keep clean. With a wide range of colors and patterns available, plastic panels can be quickly and effortlessly installed, resulting in a smooth and seamless surface.
Jasmin's Design Tip

There are also panels available with different materials and designs. For example, acoustic panels made of wood are currently very popular.
Concrete-look tiles: adding an industrial charm to your bathroom
A modern tile design is the concrete look. This minimalist style enhances the industrial aesthetic and contemporary atmosphere of your bathroom. Concrete look can be applied to walls and used as a floor covering. Additionally, there are furniture, washbasins, and decorations available in the concrete look. The seamless design creates a cohesive appearance and can be easily combined with other materials.
Natural stone: Rustic elegance and natural beauty
Natural stone claddings provide your bathroom with a rustic and luxurious charm. Marble, slate, granite, or limestone can be used as wall claddings or flooring options. The unique texture and color tones of natural stone create a timeless aesthetic that will give your bathroom an exceptional touch.
Seamless surfaces: Modernity and simplicity
Jointless micro cement is a modern alternative to tiles that features a seamless and smooth surface in a concrete look. This creates the illusion of larger and more inviting small bathrooms. Whether you prefer a matte or glossy finish, this option is especially suitable for contemporary bathroom designs.
Microcement can be applied to floors, walls, and even bathroom furniture, providing your bathroom with a minimalist and elegant appearance.
Conclusion: Embrace individuality and unleash your creativity in bathroom design
There is a wide selection of alternatives to standard small tiles, providing you with the opportunity to customize your bathroom according to your personal style. From rustic charm to modern elegance, there is a suitable option for every taste
Before making your decision, we recommend seeking inspiration and selecting the option that best aligns with your aesthetic and functional requirements. This way, you can create a bathroom that perfectly reflects your individual taste.
At IBOD, we are more than happy to assist you in finding the perfect style for you. Please don't hesitate to contact us today!
Frequently Asked Questions
Is natural stone high-maintenance?
Natural stone tiles generally require more maintenance than conventional tiles. The natural surface allows dirt and water to accumulate more easily. Therefore, it is important to regularly clean the surfaces and use specific care products when needed.
Can alternative wall coverings withstand moisture?
Yes, there are alternatives that are resistant to moisture and are suitable for the bathroom and direct wet areas. However, it is always advisable to inquire with the manufacturer or your partner company.
Is it possible to combine different alternatives?
Yes, you can combine different materials to create a unique design. For example, you can combine micro cement with a wood look to achieve an interesting contrast. However, remember to carefully consider a harmonious balance between the elements.
Jasmin's Design Tip

Terrazzo floors combined with micro cement walls create a particularly stunning look.