Which material for your seamless bathroom?
A seamless bathroom offers numerous advantages that will inspire you. Find out here which materials are best suited for creating a seamless bathroom.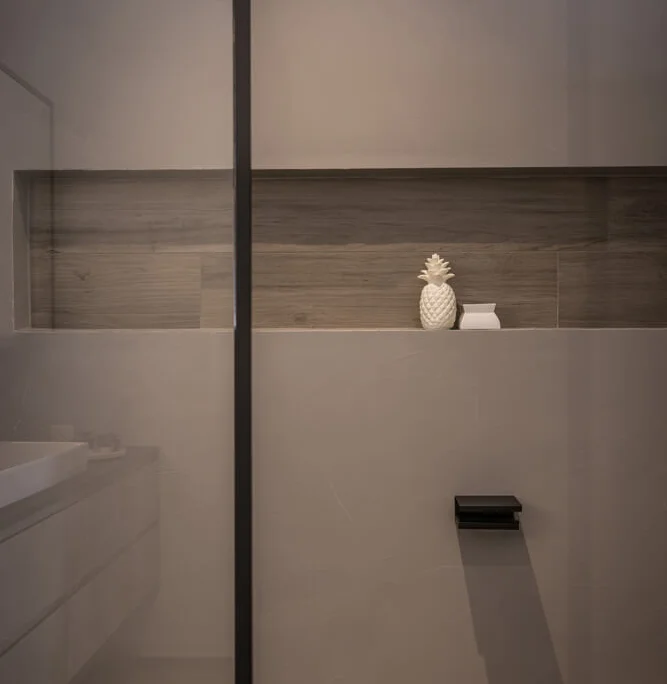 A seamless bathroom offers numerous benefits that will inspire you. Instead of traditional tiles, a seamless bathroom provides a seamless and smooth surface that is not only aesthetically pleasing but also offers many practical advantages
One major advantage is the easy cleaning and maintenance. Without joints, the tiresome task of cleaning dirt and deposits between tiles is eliminated. Additionally, seamless surfaces are less prone to mold formation and moisture. By using specific materials for seamless coatings, such as formulations with white cement or other mineral fillers, it is possible to create a personalized design that reflects your individual style
Furthermore, a seamless bathroom provides a hygienic solution as bacteria or germs cannot accumulate in the joints. Additionally, seamless floor surfaces facilitate the seamless integration of shower trays into the flooring, making shower entry easier
Whether in private apartments, hotels, or wellness areas, a seamless bathroom is a modern and low-maintenance choice that seamlessly combines aesthetics and functionality.
Tips for choosing the material
When selecting the appropriate material for seamless floors and walls, it is crucial to consider the specific requirements regarding high humidity and direct use in the shower
In the direct wet area (shower), a smooth and waterproof surface is necessary to protect the underlying structure from moisture. This can be achieved with the resin-bonded putty Doppo Ambiente Pro+
Outside the shower, the walls can be adorned with the White Cement Lime Marble Fine Plaster Doppo Ambiente Wall. The Doppo Ambiente Wall is a decorative plaster available in over 9 different finishes and more than 64 colors
Aesthetics and elegance
A seamless bathroom offers numerous aesthetic advantages, making it a popular choice for modern bathroom design. Seamless bathrooms have smooth and uninterrupted surfaces that create a clean and minimalist appearance. There are no disruptive grout lines that interrupt the overall visual appeal and create a sense of restlessness in the spac
Seamless materials also offer a multitude of design possibilities. From various colors and textures to personalized structures and aesthetics – you have the freedom to customize the bathroom according to your individual preferences and style concepts.
Due to the seamless surfaces and clean lines, a seamless bathroom creates a sense of spaciousness and openness. It has the ability to visually enlarge the space and create an airy atmosphere.
Hygiene and ease of maintenance
Another significant reason why many people choose a seamless bathroom is because of its hygienic and easy-to-maintain characteristics. Seamless surfaces reduce the accumulation of dirt, dust, and bacteria. Without any joints, dirt particles have fewer opportunities to settle.
Materials without joints that contain micro cement or epoxy resin are typically easy to clean. They do not require special cleaning products or complicated cleaning methods. Usually, a microfiber cloth and clean water are sufficient for keeping the surface clean. To reduce the build-up of limescale, it is recommended to rinse the surface with cold water after showering and then dry it. If a cleaning agent is necessary, it is important to use pH-neutral ones. In case of heavy stains, other cleaners can be used sparingly and only when diluted, for example, with Doppo Ambiente Pro+. After cleaning, it is advisable to neutralize the surfaces with water
The doppo Ambiente Wand, thanks to its natural ingredients, is particularly breathable, making it especially important in a humid environment like a bathroom. It helps maintain a balanced and healthy indoor climate and is less prone to the formation of mold and fungi on the wall surface, even in high humidity conditions.
Non-slip floor coverings also provide a higher level of safety. By adding Ballotini glass beads or anti-slip particles, the required slip resistance classes can be achieved.
A seamless bathroom combines both aesthetic and practical benefits. It provides an elegant and modern appearance, promotes a hygienic environment, and simplifies cleaning and maintenance.
(Micro)cement: Versatile and durable
Cement-based filler, often referred to as micro cement, is a popular material for seamless bathrooms due to its versatility and durability. It provides a wide range of design possibilities and is highly resilient
Filling compounds based on mineral fillers with additional additives – depending on the product and manufacturer – can be applied to nearly any surface, including tiles, concrete, and even existing floors. This versatility makes it a flexible option for bathroom design
For example, the Doppo Ambiente Pro+ filler can be applied to both floors and walls, creating a seamless appearance. This 2K filler, bonded with resin, is highly resistant and can withstand heavy usage. It is exceptionally durable, able to withstand scratches, impacts, and abrasion. As a result, it is an excellent choice for bathrooms that experience daily use and moisture.
The doppo Ambiente Pro+ is available in a wide range of colors, ranging from neutral tones like white and gray to vibrant hues. This gives you the flexibility to create the desired style and atmosphere in your bathroom
With the appropriate sealing, the surface is then permanently sealed and protected from dirt and certain chemicals. It is important to choose the right sealing to guarantee optimal and long-lasting protection of the surface. We at IBOD are more than happy to provide you with advice on this matter.
And the aesthetics are also "on point": Fillers with micro cement technology give the bathroom a modern and contemporary look. The smooth surface and seamless appearance create an elegant visual effect and make the room appear larger. In addition, various textures and finishes can be applied to achieve the desired effect.
What material suits your style?
When selecting the appropriate material for your seamless bathroom, it is essential to take into account your personal style and individual preferences. Each material possesses its own unique characteristics and aesthetic qualities, which can greatly influence the overall appearance and atmosphere of the bathroom.
If you prefer a modern and minimalist style, materials like the doppo Ambiente Pro+ could be a perfect match for you. This material provides a sleek and seamless surface on both the walls and the floor, resulting in a contemporary appearance.
For those who appreciate a natural and rustic style, the doppo Ambiente Pro+ is an excellent choice for wall and floor coverings in the shower. With its warm appearance and various surface textures, the white cement lime marble fine plaster double ambience wall can create a cozy and inviting atmosphere on the walls outside the shower. Both materials are well-suited for the bathroom, as they regulate moisture, are easy to maintain, and naturally easy to clean. Additionally, these two products complement well with wooden elements and other natural materials.
If you desire a luxurious and sophisticated look, the double Ambiente wall offers the option for individual finishes. With its elegant aesthetics and unique patterns and materials, the double Ambiente cast Terrazzo outside the shower could be the perfect choice, adding a touch of luxury to your bathroom.
It is also important to keep the budget in mind for your bathroom project. The various materials have different costs, depending on their quality and the associated labor expenses
As you can see, at IBOD we offer a wide selection of products and design possibilities. Feel free to reach out to us for personalized consultation.