Which surfaces are suitable for the bathroom?
Tiles, natural plaster, or micro cement? Which surfaces are best suited for your bathroom? Find out more in this article!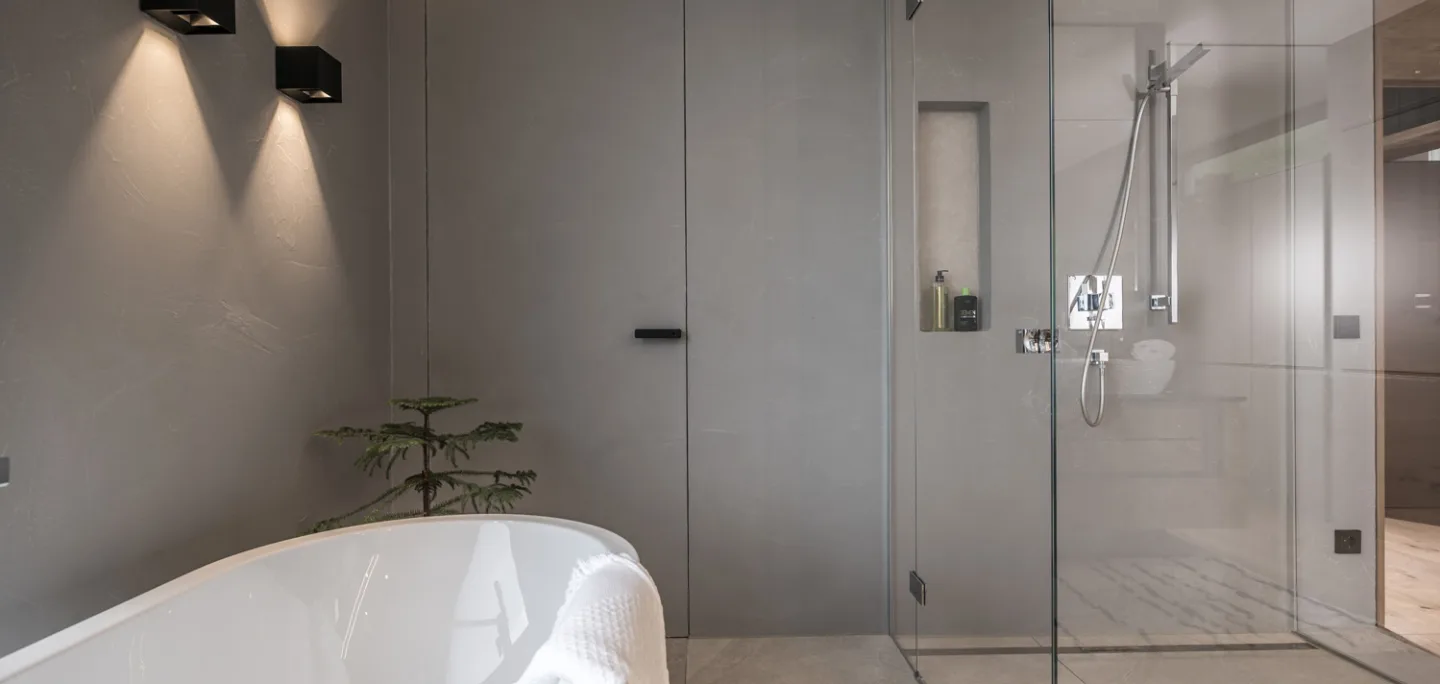 The bathroom is a place of relaxation and personal care. When designing this space, the choice of the right surfaces is crucial. Various materials offer the opportunity to create an aesthetically pleasing and functional bathroom. In this article, we will explore the best options for bathroom surfaces.
Tiles – Classic & Versatile
Tiles are the traditional and versatile option for bathroom surfaces. With their ability to resist moisture and their durability, they are perfect for wet areas. Tiles come in a wide range of designs, from traditional ceramic tiles to modern glass or metro tiles.
Tiles can be used on both the floor and the walls, offering versatile design possibilities for creating a visually appealing bathroom.
However, cleaning the joints can be time-consuming, and the presence of many tile joints can make the space appear smaller and more cluttered.
Natural stone – Natural elegance
Natural stone adds an elegant touch to the bathroom – materials such as marble, travertine, and slate offer timeless, natural beauty and create a luxurious atmosphere. The unique patterns and colors of natural stones bring individuality to the space
However, maintaining the often rough and porous surfaces of natural stone requires regular impregnation to prevent the formation of stains and discoloration. Nonetheless, natural stone remains an elegant choice for those seeking a touch of luxury and natural beauty in their bathroom.
Earth plaster – Ecological & Natural
Natural materials, such as cement, lime plaster, or clay plaster, are environmentally friendly, breathable, and naturally regulate moisture in the room. These types of plasters create a warm and soothing atmosphere in the bathroom
They are easy to maintain, have low emissions, and provide a sustainable alternative to traditional surface materials. Natural plaster adds a rustic charm to the bathroom and is ideal for those who appreciate an environmentally conscious and natural aesthetic. We do not recommend using these plasters in direct wet areas.
Our products: the doppo Ambiente Wand and the doppo Waschputz Mediterran.
Microcement – Modern & Minimalistic
Micro cement or other skim coats and plasters provide a modern and minimalist solution for your seamless bathroom. These versatile materials create a seamless and smooth surface that complements contemporary design perfectly. The materials are waterproof and durable, making them well-suited for wet areas. Additionally, the plasters have low emissions and help regulate the room's climate.
Its simple elegance lends a timeless flair to the bathroom. Whether used as wall cladding or flooring, micro cement seamlessly integrates into various bathroom styles, imparting a modern touch to the room. Additionally, furniture pieces can be enhanced with these materials.
Our product: the Doppo Ambiente Pro+
Epoxy resin – Futuristic & Long-lasting
Synthetic resin gives the bathroom a futuristic aesthetic and impressive longevity. This coating creates a smooth and glossy surface that appears modern and up-to-date
Epoxy resin is not only waterproof, but also highly durable and resistant to chemicals. These properties make it an ideal choice for heavily used seamless bathrooms.
Porcelain stoneware – Durable & versatile
Porcelain stoneware tiles are highly durable and resistant to moisture, stains, and scratches. They come in a wide range of colors, patterns, and designs, making them suitable for any desired aesthetic
Porcelain stoneware can be used for both the floor and the walls and is also well suited for highly frequented bathrooms.
Glass – Radiant & Light-transmitting
Glass surfaces in the bathroom exude a shiny charm and allow light to elegantly pass through. These surfaces reflect the light, creating the illusion of a larger and brighter space
Glass is ideal for accent and shower walls. The transparent nature of glass provides the bathroom with an airy and open atmosphere. However, it should be noted that glass is susceptible to fingerprints and water splashes, which necessitates regular cleaning.
In conclusion
The choice of the right surfaces for bathroom design depends on personal preferences and functional requirements. Each material has its own advantages and contributes to a unique aesthetic. By combining the appropriate surfaces, you can create a bathroom that is both visually appealing and functional.
Frequently Asked Questions
1. Which surface is best suited for humid environments like the bathroom?
The best options for humid environments are tiles, micro cement, epoxy resin, and glass surfaces. In addition to the material, the selection should consider important technical properties such as slip resistance. Flat shower trays are also highly recommended for the shower floor, with elegant designs now available on the market. IBOD gladly recommends Duravit for this purpose.
2. Are natural stone surfaces high maintenance?
Natural stone requires regular sealing and special cleaning methods to maintain its beauty.
3. Can wood-look be used in the bathroom?
Yes, high-quality wood-look tiles are suitable for bathrooms and are currently very popular. Please ensure that the tiles used in the shower are suitable and have slip-resistant properties.
4. Which material is best suited for a modern bathroom design?
Micro cement gives the bathroom a modern and contemporary appearance. It is slip-resistant and easy to clean. With the application of a suitable surface seal, the surface becomes resistant to dirt and stains