Flooring for the living area: Overview & Tips
Gain a comprehensive overview of the various types of flooring, their pros and cons, and receive tips for selecting the right one!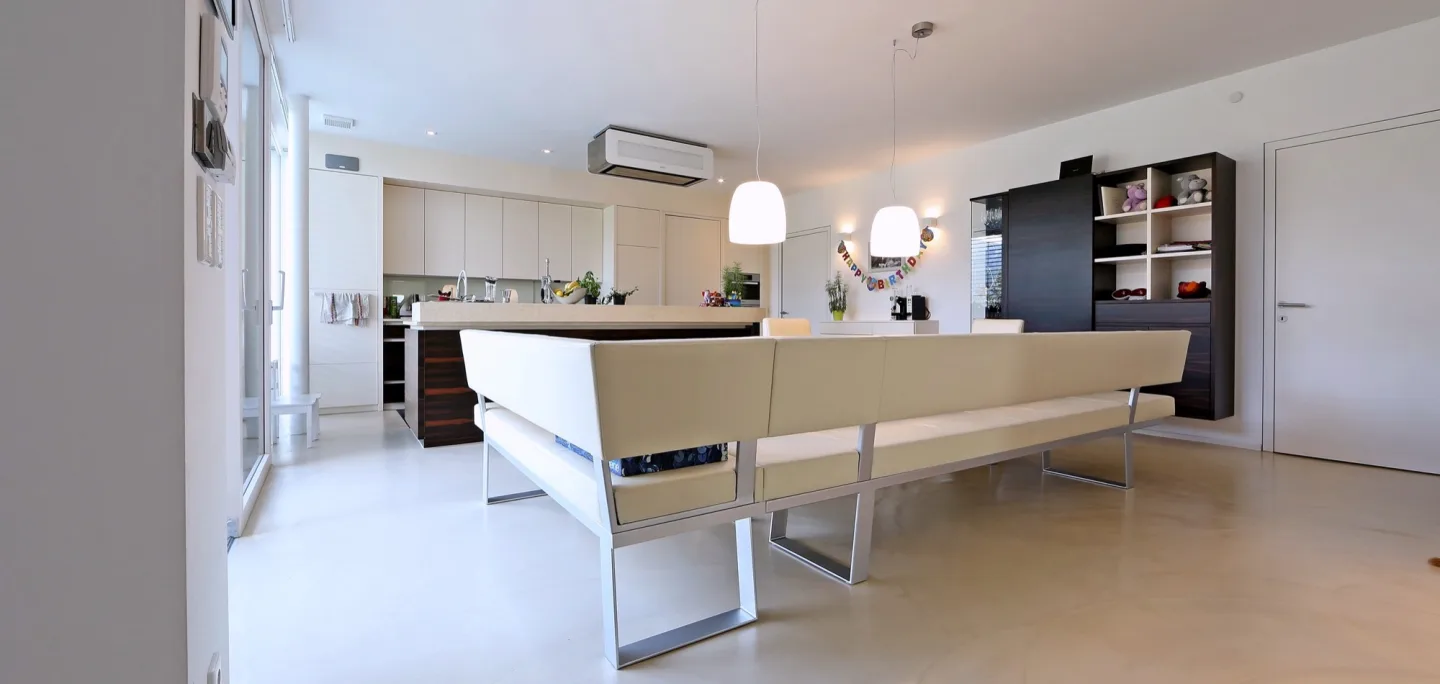 The floor has a significant impact on the appearance and functionality of a room. There are various options to choose from, including laminate, carpet, cork, mineral floorings, parquet flooring, and more. In this article, we will provide you with a comprehensive overview of different types of floor coverings and offer valuable tips for selecting the best flooring for your living area.
What types of floor coverings are available?
Imagine if your floor could speak – it would surely tell us a tale of the various floor coverings it has witnessed over time! From plush carpets to elegant parquet to contemporary seamless floors, the realm of flooring offers immense variety. Let's embark on this journey together and explore the flooring options that can adorn your home
Laminate: Versatile and low-maintenance
Laminate floors are well-known for their versatility and ease of maintenance. With a wide range of decors, including wood, stone, and tile designs, they can imitate various styles. Additionally, they are resistant to scratches and wear, and are easy to clean. However, it is important to consider the usage or abrasion class when selecting laminate flooring, for example, specific laminate options are suitable for kitchen areas.
Tip: Pay attention to soundproofing underlay
Proper footfall sound insulation reduces noise and prevents footsteps and movements in neighboring rooms from being disruptive. In floor coverings such as laminate, parquet, or vinyl flooring, the right footfall sound insulation can greatly enhance living comfort and create a pleasant room acoustics, making walking more enjoyable.
Cork: A natural and sustainable flooring option
Cork is becoming increasingly popular as a natural and sustainable flooring option. Cork floors are made from the bark of the cork oak tree without cutting down the tree. This makes them a highly environmentally friendly choice. In addition to their ecological compatibility, cork floors also offer a pleasant texture, excellent thermal insulation, and effective impact sound insulation
Cork floors come in various designs and colors, ranging from a natural look to modern decors. Their durability and ease of maintenance make them a versatile option for the living area. However, it is important to note that cork floors are not suitable for more humid spaces such as the kitchen or bathroom.
Tip: Regular maintenance for cork floors
While cork floors are naturally low-maintenance, they still require some attention to preserve their beauty and durability. Regular vacuuming or sweeping will remove loose dirt particles that could cause abrasion on the surface. Keeping the floor clean can be achieved by gently wiping it with a damp cloth and mild cleaning solution
Make sure to avoid excess water, as cork can react sensitively to it. Use special cork care products to preserve its elasticity and shine
Parquet flooring: Timeless elegance and the look of wood
Parquet flooring radiates timeless elegance and natural beauty, as it is crafted from genuine wood. The distinctive grain and wood appearance lend warmth and coziness to any room. Parquet is versatile and complements various interior design styles
In addition, you have the option to choose from various types of wood such as birch, natural oak, mahogany, etc., each of which differs in hardness, appearance, and quality. Landhausdielen (country house floorboards) are particularly popular, where each panel consists of a single wood veneer.
Whether it's on-site treated parquet or prefabricated parquet, it is crucial to prioritize proper maintenance to ensure its longevity. Regular dusting and gentle cleaning with wood care products will keep the floor looking radiant. If needed, the wooden floor can also be sanded and resealed to preserve its beauty.
Tipp: Use baseboards for the perfect finishing touch
Don't forget the skirting boards! These small details provide the perfect finishing touch to your floor. They hide the transitions between the wall and the floor and offer protection against moisture.
Ceramic tiles: Durable and versatile option
Ceramic tiles are a highly durable and versatile choice for flooring in residential areas. Their strength and resistance make them perfect for heavily frequented areas such as kitchens and bathrooms. Additionally, their moisture resistance and easy maintenance make them ideal for wet rooms
With a wide variety of designs, colors, and sizes, floor tiles offer endless possibilities to add a personal touch to your living space. Whether you prefer a classic, modern, or rustic look, tiles are a durable and low-maintenance option that combines aesthetics with functionality.
Tip: Pay attention to proper installation and adhesion
Use high-quality tile adhesive and ensure that the tiles are laid evenly and in a flat manner. A clean and smooth subfloor is essential. Additionally, use the appropriate tile spacers to ensure uniform joint spacing
Textile floor coverings: Comfort and warmth
Textile floor coverings, such as carpets and carpet tiles, create a cosy atmosphere and provide a comfortable walking experience. They are particularly popular in living areas because they emit warmth and create a sense of comfort. Carpets also have the ability to reduce noise, making the room acoustically more pleasant.
Tipp: Flexibility with carpet rolls
Meterware enables you to tailor the flooring precisely to the size of your room and minimize waste. This is particularly beneficial for rooms with irregular shapes
Mineral floors: Modern elegance and seamless surface
Spachtel- und Gussböden (filler and cast floors) are a modern alternative to conventional floor coverings. These design floors are known for their seamless and high-quality surface, which adds an elegant and contemporary aesthetic. They are especially popular in modern living spaces, offices, and commercial areas. These floors are created by pouring or troweling special materials, resulting in a robust and durable surface
The range of colors and design possibilities is extensive, allowing you to customize your floor according to your preferences. Additionally, Spachtel- and Gussböden are easy to maintain and hygienic, as dirt and dust have a hard time adhering to uneven surfaces.
Due to the low-dust and low-noise application, these floor coverings are also perfect for renovations. A professional company can install your new floor without you having to worry about noise levels or dust development.
Tip: Prior Subfloor Preparation
If you choose a trowel or cast floor, thorough preparation of the subfloor is essential. Ensure that the floor is free from cracks, unevenness, and moisture. A well-prepared subfloor guarantees a smooth and long-lasting surface. We recommend seeking advice from a professional company to ensure that the flooring is installed optimally and that the modern elegance is showcased to its fullest extent
What are the alternative floor coverings?
In addition to the "classic" options, there is a wide range of other floor coverings that can bring style and functionality to your living area. One popular alternative is linoleum, which is an environmentally friendly option with numerous design possibilities. Rubber or epoxy resin floors can also provide exciting opportunities to give your home a unique touch. The choice depends on your personal taste, budget, and the specific requirements of the room.
How much do the different floor coverings cost?
The costs of the different floor coverings can vary depending on the material, quality, and installation complexity. Laminate and vinyl flooring are generally more cost-effective than parquet or stone tiles. Carpets have a wide range of prices, depending on the material and thickness, while cork floors and mineral floor coverings fall within the medium to high price range, depending on their quality and appearance. Ceramic tiles can vary greatly in price, while natural stone tiles are often more expensive
Which floor coverings provide the best price-performance ratio?
When searching for flooring with the best value for money, there are several options that are highly recommended, including seamless floors. These types of flooring not only stand out for their seamless appearance, but also for their long-lasting durability and easy maintenance. While they may be slightly more expensive to initially acquire, they impress with their longevity and modern aesthetic. Alongside seamless floors, laminate, vinyl flooring, and cork flooring are also popular choices with a favorable price-performance ratio. Ultimately, the decision depends on your individual needs and budget.
When selecting a floor covering, it's important to consider not only the initial cost, but also the long-term maintenance and durability. At IBOD, we would be glad to assist you in finding the perfect flooring for your needs.
Frequently Asked Questions
Which types of flooring are most suitable for living spaces?
Depending on your preference and needs, laminate, vinyl flooring, carpet, cork, tiles, parquet flooring, or trowel/cast flooring can all be excellent choices for the living area.
Are carpet tiles a good choice for living spaces?
Yes, carpet tiles offer warmth, comfort, and sound insulation. They are easy to replace and allow for creative design options.
Which flooring options are suitable for wet rooms?
Cork, tiles, and mineral flooring are ideal for wet areas such as bathrooms and kitchens.
How can I take care of my flooring?
Regular vacuuming, damp mopping, and avoiding harsh cleaning agents are essential for maintaining the longevity and beauty of your floor covering.
Which type of flooring is suitable for underfloor heating?
Laminate, vinyl, and mineral floors are well suited because they efficiently conduct heat. Seeking advice from a specialist company will assist you in making the right choice.
What are the benefits of vinyl flooring in residential areas?
Vinyl flooring is low-maintenance, long-lasting, resistant to moisture, and available in a range of designs, including wood and stone finishes.
How to install vinyl flooring without glue?
Vinyl flooring without adhesive can be installed in the form of click vinyl or self-adhesive vinyl planks or tiles. With click vinyl, the individual planks or tiles are securely clicked together, creating a stable bond. In the case of self-adhesive vinyl, there is already adhesive on the back of the planks or tiles, which is activated upon application.