Mineral floor covering: What should one consider?
When selecting a mineral floor covering, it is crucial to choose the appropriate material that suits the desired style and the level of usage of the room.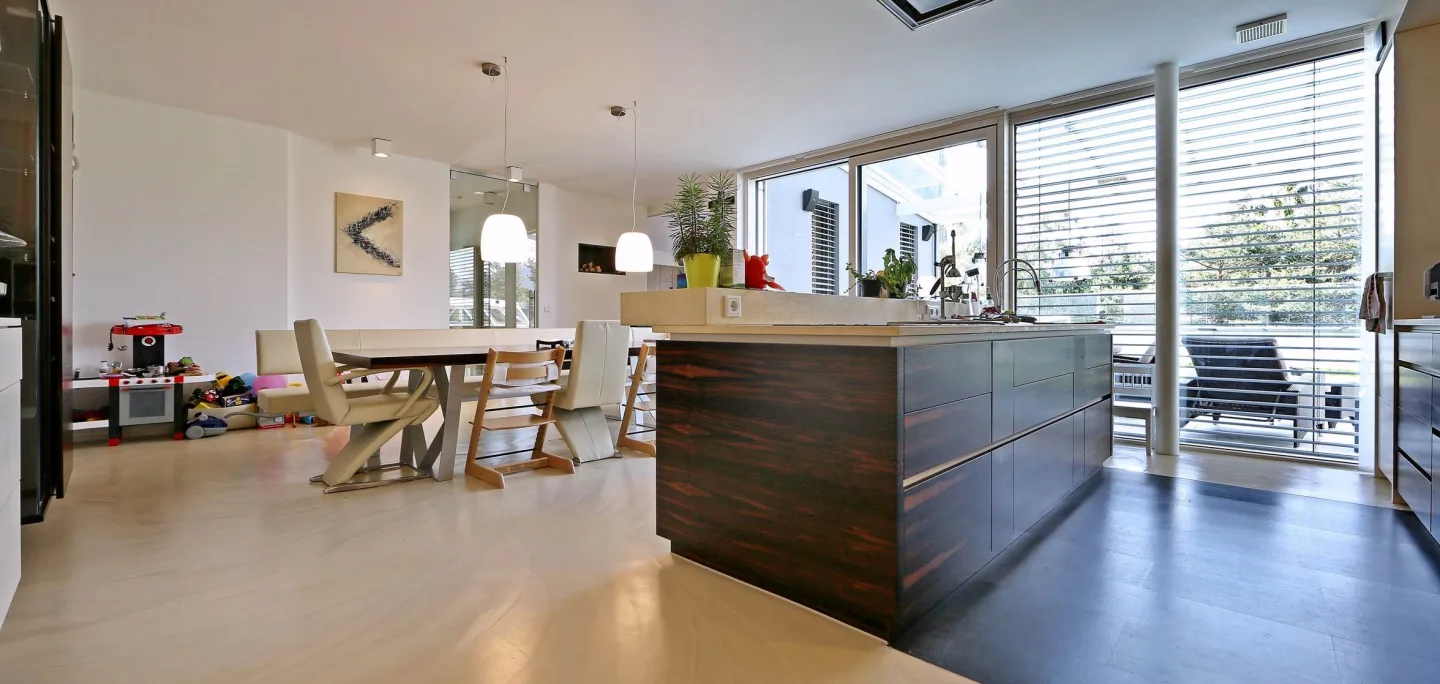 When it comes to giving your home a modern and unique touch, opting for a mineral floor covering is highly exciting. Using materials like concrete Ciré, doppo Ambiente, or even cast terrazzo floors enables you to bring an industrial charm or minimalist elegance to your spaces. However, before making a decision on this type of flooring, there are several important aspects to consider. Here are some key factors that should be taken into account:
Durability and resilience
Mineral floors are known for their robustness and durability. They can withstand light to heavy foot traffic and regular use, making them especially suitable for high-traffic areas such as private spaces, living rooms, and public entrances and corridors, among others. It is recommended to use high-quality sealants that are specifically suitable for the floor to ensure its longevity. Additionally, it is important to consider the anti-slip rating as well.
Surface treatment and aesthetics
One of the major advantages of mineral floors is the wide range of surface treatments and finishes available. From the sleek and smooth polished concrete look to the textured scraper floor for a rustic aesthetic, there are numerous options that can align with your personal style. Take some time to consider which look would best complement your living space.
Soundproofing and insulation
Another important aspect to consider is the sound insulation and insulation of the mineral floor covering. Concrete and cement are naturally solid materials that can reflect sound. Mineral floors provide a pleasant warmth and are less cold than most tiles. Moreover, mineral floors are highly suitable for underfloor heating as they conduct heat effectively and are non-flammable – a particularly crucial aspect for public areas.
Care and maintenance
Taking proper care of and maintaining mineral floors is relatively easy. However, it is important to use mild, pH-neutral cleaning agents in order to avoid damaging the sealant. Additionally, it is crucial to promptly remove or treat any stains or dirt. It is recommended to seek advice from professionals when selecting cleaning agents and care products to ensure that you use products that will not cause any harm to the flooring
To maintain the original beauty, we recommend proper maintenance. This begins with preventive measures. Therefore, we recommend using a dirt-trapping mat in the entrance area to prevent moisture and dirt from entering. It is also advisable to use felt glides for furniture and decorative objects that are placed on the floor. By equipping chairs, tables, sofas, or vases with these glides, you can ensure that they do not damage the floor.
Professional installation and consultation
The installation of mineral floor coverings requires expertise and experience. Therefore, we strongly recommend that you enlist the services of experts to ensure that the floor is adequately prepared, treated, and installed. These professionals can also provide assistance in selecting the appropriate sealant, surface treatment, and ongoing floor maintenance.
In conclusion
A mineral floor covering can undoubtedly bring an impressive and contemporary style to your home. By carefully planning, adequately preparing, professionally installing, and properly maintaining it, you can ensure that the mineral floor covering is not only aesthetically appealing but also functional and long-lasting. However, it is important to consider that choosing this type of floor covering is an investment in the aesthetics and character of your house, therefore thorough consideration and consultation are essential.
Frequently Asked Questions (FAQs)
What advantages does a mineral floor covering offer compared to other types of flooring?
A mineral floor covering provides a distinctive aesthetic with a modern industrial charm or minimalist elegance. It is durable and resistant to light to heavy foot traffic, making it an ideal choice for heavily frequented areas.
The products "doppo Ambiente Gussterrazzo" and "doppo Ambiente Pro+ SN" are especially suitable for public facilities.
Are mineral floors susceptible to cracks and damage?
Cracks can form in mineral floors if not processed properly. Professional substrate preparation and processing are essential to achieve the desired surface
Can I use mineral floors in residential areas?
Yes, mineral floors can be used effectively in residential areas. Seamless floors contribute to a pleasant and healthy indoor environment. High-quality, mineral floor coverings made from non-toxic and mineral materials are able to regulate moisture and allow for proper diffusion. They are particularly suitable for individuals with allergies
What specific care do mineral floors require?
To ensure the integrity of the sealant, it is recommended to use gentle, pH-neutral cleaning agents and promptly address any stains or dirt by treating or removing them.
Is it possible for me to install mineral floors myself?
The installation of mineral floors requires expertise and experience. It is recommended to rely on professional floor layers to ensure proper preparation, installation, and sealing.
Is a mineral floor covering an expensive option?
The costs of mineral floors can vary depending on the material, installation, and other factors. They could potentially be more expensive than some traditional floor coverings. However, due to their longevity and aesthetic appeal, they are often a worthwhile investment.