What are floor coatings?
Floor coatings can be made from various materials such as epoxy resin, polyurethane, or acrylic, and offer a range of advantages including durability, aesthetics, and ease of maintenance. In this article, you will discover more about the different types of floor coatings and how they can be used.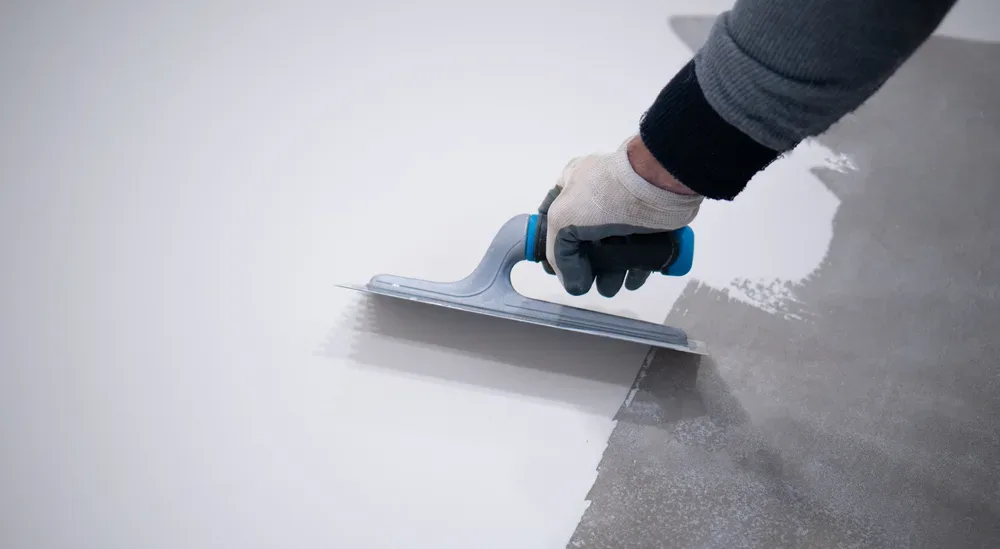 Floor coatings are more than just a cosmetic enhancement. They provide a protective layer that safeguards the floor from wear, abrasion, and other damages. However, what exactly is meant by the term "floor coatings"
In this article, we will thoroughly examine floor coatings, explore their various types, and illuminate the multitude of applications and advantages they provide.
The Fundamentals of Floor Coatings
Floor coatings are specialized products that are applied to the surface of the floor. They can be made from various materials such as epoxy resin, polyurethane, or other plastics. However, there are also mineral coatings based on high-quality white cement and other fillers. These coatings create a durable barrier between the substrate, the building, and the daily external influences.
What are the benefits of floor coating?
Protection: Floor coatings provide protection for the floor against scratches, chemicals, moisture, and other types of damage.
Durability: Floor coatings enhance the longevity of the floor covering by virtue of their resilience.
Aesthetics: They give the floor a glossy or matte finish and are available in a variety of colors and designs.
Safety: Certain coatings offer slip-resistant surfaces, which enhance safety in high-moisture areas and reduce the risk of accidents.
Various types of floor coatings
Different types of floor coatings offer specific properties and advantages that cater to the individual needs and requirements of different spaces. From the durability and flexibility of epoxy and polyurethane coatings to versatile and modern mineral floor coatings, each variation contributes to protecting the floor while improving its aesthetics.
Epoxy resin coatings
Epoxy resin coatings have been widely used in the industry for many years. This is primarily due to their high load capacity, excellent chemical resistance, and efficient processing methods. Today, these durable floors are also utilized in commercial settings, such as grocery stores and fashion boutiques, as well as in prestigious areas like offices, conference rooms, and private residences, garages, and workshops. These coatings are highly suitable for environments that experience heavy wear and require increased slip resistance.
Its durable material forms a protective barrier against mechanical stresses, scratches, chemicals, and wear. Additionally, it provides the floor with a glossy and professional finish.
Polyurethane coatings
Polyurethane coatings stand out for their flexibility and durability. These coatings are perfect for areas with light to moderate traffic that are exposed to increased wear and tear, such as retail stores, restaurants, health centers, or schools
They provide not only protection against wear and scratches, but also maintain their aesthetic appearance for a long time. Their highly elastic properties allow them to absorb movements in the substrate, thereby minimizing cracks and damages.
Mineral coatings
Mineral floor coatings are durable design floor systems with a natural appeal. Due to their versatile design and durability, these floor coatings are suitable for areas with light to medium foot traffic, such as offices, showrooms, restaurants, and residential spaces. The floors are UV-resistant, have low emissions according to AgBB standards, and comply with EMICODE EC 1
3 Tips for Selecting the Appropriate Floor Coating
Here, you will find three valuable tips on how to choose the perfect floor covering for your needs:
Consider whether the floor will be subjected to heavy usage, exposed to chemical influences, or needs to be slip-resistant.
Ensure that you have confidence in high-quality materials
Take your budget into account and select a coating that also complements the aesthetic of your space.
Applications in various environments
The applications of floor coatings extend to a wide variety of environments
In commercial areas such as warehouses and workshops, epoxy resin coatings offer a durable surface that can withstand mechanical stress and chemicals. In restaurants, shops, and residential spaces, mineral coatings enhance the aesthetic appeal of the floor and provide protection against wear and tear. Mineral coatings are an ideal choice for flooring in private spaces, shops, and gastronomy establishments, offering a natural look. The highly elastic polyurethane coatings are also suitable for these environments.
Installation and care
Installing floor coatings requires professional expertise and experience. Therefore, we recommend that you seek assistance from a qualified specialist. In terms of maintenance, it involves regular cleaning, and if necessary, after a few years, the surface can be restored to its original condition with a professional cleaning and sealing treatment
Frequently Asked Questions
How long does a floor coating hold up?
Durability depends on various factors, including the type of coating and the usage of the floor. With proper cleaning and maintenance, the floors can last for 15 to 20 years or even longer
Just like wooden floors, mineral and resin-based floor coatings can also undergo multiple renovations if necessary
Are floor coatings suitable for all types of floors?
Not all floor coatings are suitable for every application and object. Compatibility should be thoroughly checked. We at IBOD are more than happy to assist you in this matter.
Does the coating affect the height of the floor?
Yes, typically coatings have an installation height of approximately 5 mm. Depending on the preparation of the subsurface, a few additional millimeters may be required. Cast terrazzo floors, on the other hand, require a minimum installation height of 10 mm. Therefore, when planning for seamless floors, it is highly advisable to select the product early on, so that the height can be taken into consideration for the substructure
Are floor coatings environmentally friendly?
Some coatings are more environmentally friendly than others. Pay attention to certified options such as the "GEV-Emicode", the "AgBB" certificate, or the "Blue Angel" eco-label here.