What types of seamless floor are available?
Join us in exploring the diverse range of possibilities that these floor coverings offer and how they can transform your interior into something truly extraordinary.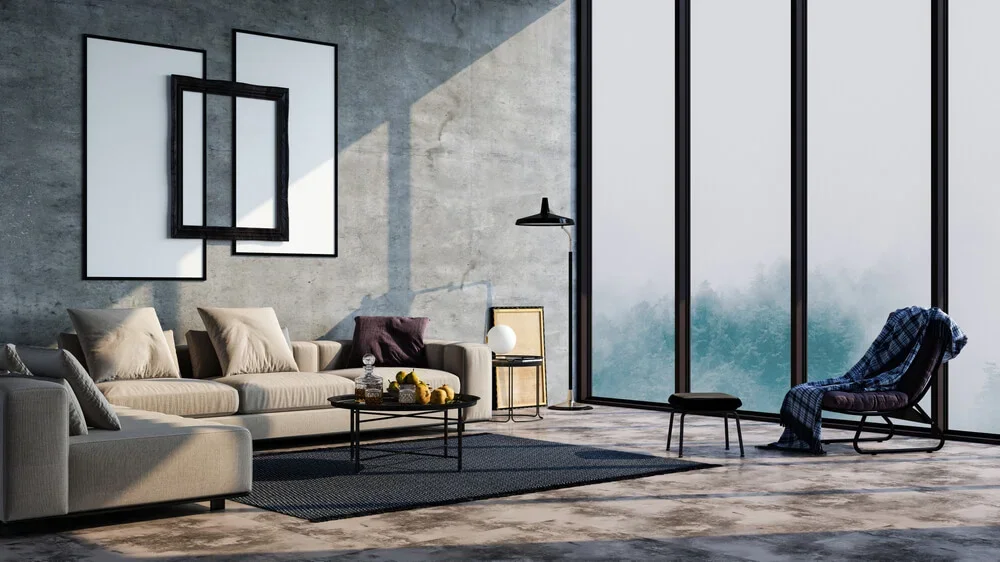 When it comes to room design, flooring plays a crucial role. Seamless floors, such as those in a concrete look, are gaining popularity due to their aesthetic appeal and numerous practical benefits
In this article, we will explain the differences between cast floor and putty floor, and introduce you to the various types of jointless floor, such as epoxy resin, micro cement, and terrazzo, in more detail
Join us in exploring the diverse possibilities that these floor coverings offer and how they can truly transform both your interior and exterior into something extraordinary.
Pouring floor
The cast floor is available in a ready-to-use form (1K) or can be mixed with water, acrylic, or resin (2K). This mixture is then poured onto the substrate and spread evenly using a trowel. Afterwards, the surface is smoothed using a flat trowel or a smoothing blade in slalom-like movements. This process allows for additional ventilation of the filler material and creates a perfectly level and seamless floor with a slightly mottled appearance
Depending on the system, the material may either be self-venting or non-self-venting. In systems that are not self-venting, a special roller, commonly known as a spiked roller or hedgehog roller, is used for ventilation. This process eliminates air bubbles from the flooring, ensuring a smooth and uniform surface without enlarged air pores
All systems from IBOD have excellent self-leveling and venting properties, eliminating the need for additional venting
After the poured floor has been installed and the drying time has been adhered to, the next step is the application of impregnation and sealing. In some cases, multiple layers of flooring and sealants may be required
Gussboden is resistant to impact and provides a good to very high level of durability. Furthermore, there is a wide selection of colour combinations available to customize the floor according to your individual preferences
A potential disadvantage of pouring is the proper installation, which starts with the subfloor. Therefore, we recommend professional installation by skilled craftsmen, preferably an IBOD installation partner.
Putty Floor
Seamless filler floors are not poured, but applied to the prepared substrate in the appropriate layer thickness using a smoothing trowel. The material is applied layer by layer, depending on the system. Here, too, there is a distinction between 1K (ready to use) and 2K (to be mixed)
First, a primer is applied to prepare the substrate, in order to improve adhesion and achieve a suitable surface condition. It may also be necessary to repair any defects or imperfections, ensuring that the substrate to be coated has a clean surface. Only then can an even and smooth floor surface be achieved. After drying, the trowel floor is further treated according to requirements, such as through a grinding process, application of an impregnation, and/or sealing.
Due to its thin application thickness, trowel flooring is ideal for surfaces that already have an existing floor covering, such as tiles, laminate, or parquet, where no additional space is available. The floor is durable, easy to maintain, and comes in a variety of color combinations
PS: Laminate, parquet, vinyl, or similar flooring must always be removed before installing a seamless floor
Industrial Floor – Seamless Flooring Solution with Epoxy Resin
Epoxy resin as a seamless floor is highly durable and exhibits excellent resistance to chemicals and wear. Epoxy resin coatings offer a seamless surface that is easy to clean
They are suitable for various applications such as industrial and commercial areas or garages, and occasionally for residential spaces as well.
Seamless floor with micro cement
Micro cement (also known as concrete ciré, pandomo, or concrete-look floor) is a decorative coating used for creating seamless floors. It is made from a carefully balanced mixture of cement, quartz sand, and special additives
With a thickness of approximately 3 – 5 mm, it is applied to the prepared surface without the need to remove the existing coating or tiles from the previous installation
Seamless cement-based floors offer numerous advantages, including high resistance, durability, water resistance, and easy maintenance. They provide diverse design possibilities with a variety of colors, textures, and finishes
Micro cement is used in residential spaces, shops, restaurants, and other commercial areas where a floor is desired that combines both beauty and durability, while also being functional.
Terrazzo – the new trend
Terrazzo, whether in an old villa or a luxurious new building, adds a certain casual elegance to any home. The cast terrazzo is created by combining marble stones of varying sizes, quantities, and types, and coloring the binder, resulting in a dynamic aesthetic
If you wish to use a type of stone from your local area for the recipe, this level of customization is also possible. For instance, we have created a terrazzo recipe for a customer from Bern (CH) using Aarekies, a type of gravel from the Aare river that runs right outside the customer's doorstep. Through the process of grinding and polishing, the marble stones are highlighted, resulting in the distinctive appearance of disorganized mosaic effects.
Using a cement-based and fast-hardening binder, along with the chosen terrazzo mixture of stones and color, terrazzo floors with a minimum thickness of 10 mm up to a maximum of 50 mm can be installed for indoor spaces.
It is suitable for all surfaces made of concrete, cement screed, tiles, and natural stone
Before the seamless cast terrazzo can be installed, the subsurface preparation is carried out, depending on its condition. Afterwards, the delivered binder, the color powder packaged according to the amount of binder, and the marble mixture are mixed with water on-site and applied to the surface using a trowel to achieve the required installation thickness
The freshly applied mixture is smoothed, compacted, and deaerated using a surface smoother, also known as a buffing rod. After the initial coarse sanding, which is done the next day, the surface is cleaned. The compaction and air voids must be free of dust. Subsequently, the terrazzo surface is filled with a tinted pore filler
After the terrazzo has hardened, continue the sanding process until you achieve the desired grain size and gloss level. After sanding and thoroughly cleaning the surface, apply a coat of doppo Polish to impregnate the terrazzo floor
Recommendation: Use a single disc machine with a spatula plate. Typically, grinding is done up to a diamond grain size of 400 (depending on customer preferences).
While the process may be labor-intensive, the results are impressive. Today, only a few specialized contractors offer seamless terrazzo, as it requires a great deal of experience and time. Skilled restorers are also sought after for the renovation of old terrazzo floors, as they can bring back the unique charm of these floor coverings.
The installation process takes approximately two weeks, and the price for the floor covering starts at around 250 euros per square meter.
Tips for selecting the appropriate seamless flooring
When selecting the correct seamless floor, it is important to consider individual requirements, such as the presence of underfloor heating and the intended purpose.
For residential areas, materials such as micro cement or terrazzo are ideal choices, as they provide an aesthetically appealing surface and are easy to clean. For commercial or industrial areas, as well as garages, we recommend durable coatings based on epoxy resin, which offer high load capacity and chemical resistance.
Before making a decision, it is important to carefully consider the advantages and disadvantages of different types of floor coverings and to seek professional advice in order to find the optimal solution.
Conclusion: What types of seamless flooring are available?
Seamless flooring offers a multitude of possibilities for designing rooms in a truly unique way
From premium cast floor to versatile filler floor to durable epoxy resin coatings and the refined charm of Terrazzo – there is a suitable solution for every taste and application
Trust the expertise of IBOD to meet your individual preferences and requirements and complete your space with seamless floor design.